The longer you work with Makita RP2301FC, the more you realize this plunge router was created by and for people who are serious about woodworking.
$372.07
$586.00
in stock
9 new from $337.65
1 used from $319.76
as of Dec 07, 2022 5:24 am
Last updated on Dec 07, 2022 5:24 am
If I'm spending over three hundred bucks on a router, it better be freaking good. Luckily, this time, Makita delivers and surpasses all my expectations. This a fully-professional tool.
Features
Plunge routers are nothing new. We all know what a plunge router is. It allows you to plunge your bit deeper into the wood. The crucial thing with plunging is the router's precision. If the bit enters or exits the wood at any non-perpendicular angle, it's going to be ruined. Many plunge routers are not precise enough.
Enter the Makita RP2301FC, which is as precise as I've ever seen a handheld router to be. The rods are created out of tempered steel, the collet system is flawless, and the body absorbs all vibrations properly.
The plunge rods move inside long bushings that are build out of phosphor bronze. It's a costly material that is self-lubricating and is extra-resistant to any damage.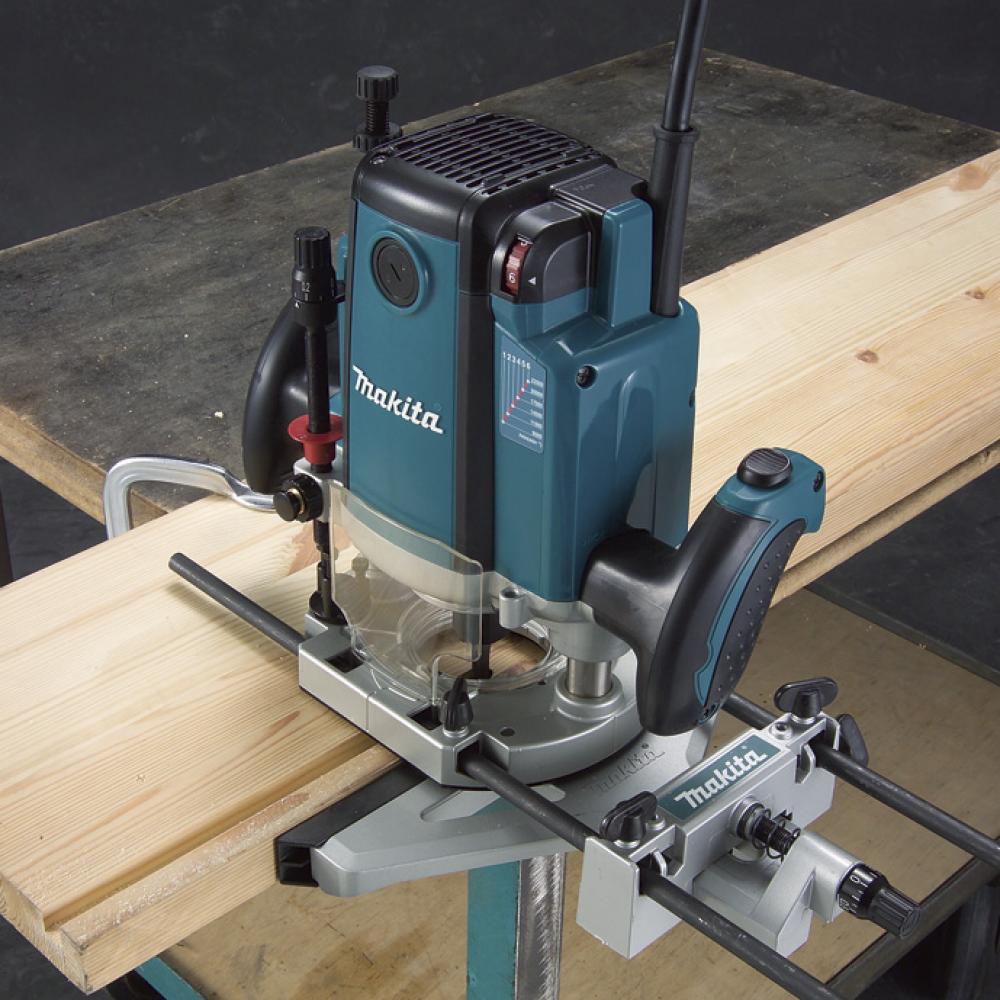 LED lights
The Makita offers twin LED job lights with an afterglow function. They are designed not to cast a significant shadow of the bit on the workpiece.
Templet guide
The templet guide is designed to be changed without any tools, with one touch. It can be quickly installed or removed simply by pulling the lock plate.
Dust collection
The plate can be connected to vacuum with dust nozzle and hose. The dust collection mechanism and its circulation work great.
Fine adjusting guide
The fine adjusting straight guide can be adjusted in 0.1mm increments. Very solid engineering on this piece of accessory.
Increased durability
Increased durability has been obtained by using a larger sized ball bearing on the drive-end of the armature. Another feature Makita included are labyrinth-type retainers and a fan that prevents the gathering of dust and dirt in the collet.
Speed motor control
The router has an easily accessible speed control dial. It offers selectable rotation speed that suit the needs of various woods. 9000 to 22000 RPM.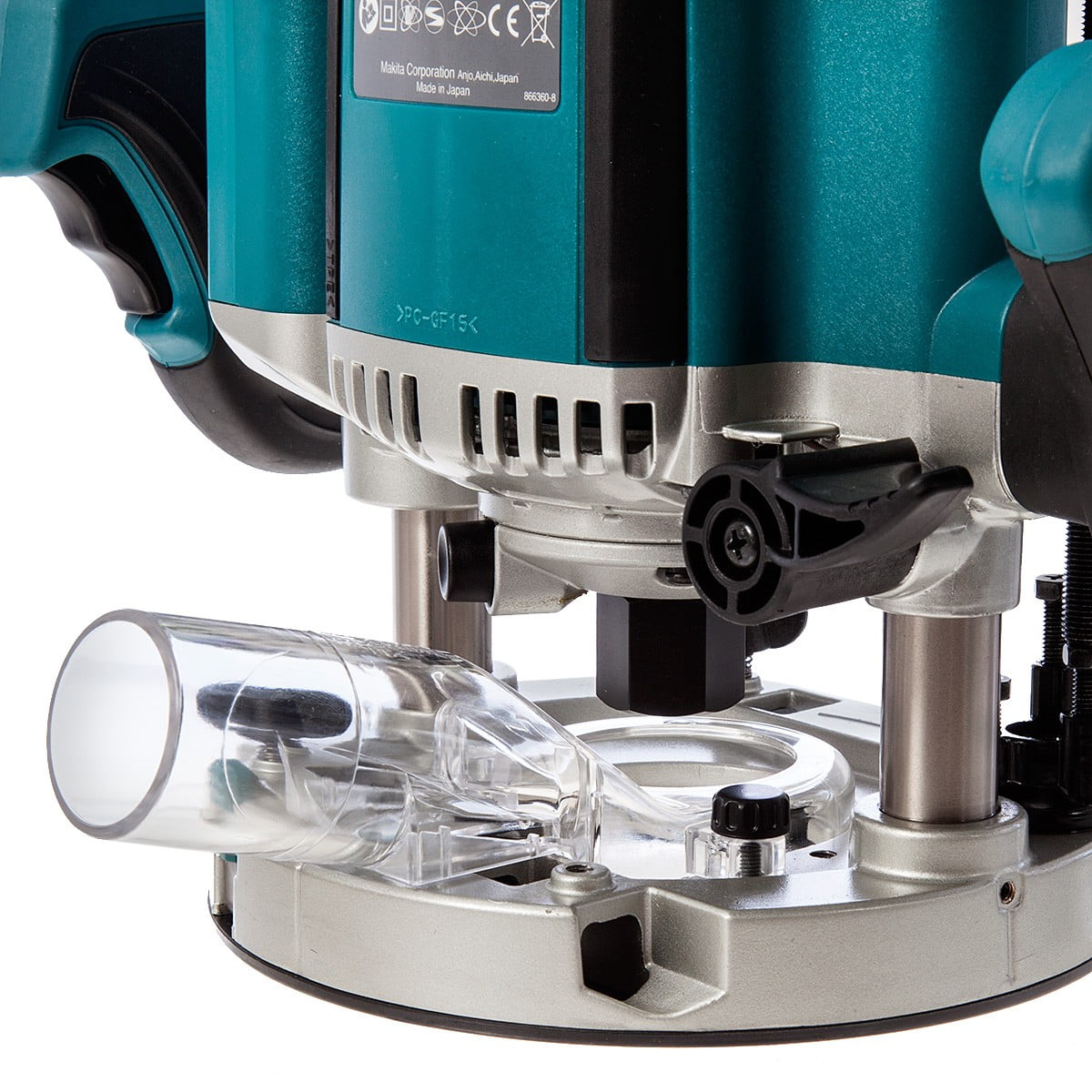 Handling
Once you get the change to use the Makita, you will instantly appreciate it's engineering.
The handles are perfect. Ergonomically shaped knob-style offers comfortable operation. When gripping the upper portion of the handle, it fits the contour of your hand well.
When gripping the lower portion of the handle, the handle fits your thumb, and the grip's ribs take care of your other singers for a solid grip.
The "on/off" trigger is positioned right where it should be. It's easily operable with a lock-on button.
With a small application of pressure, you can push the motor body down the guides until it reaches the pre-selected plunge depth you're looking for. Then you can lock the plunge lever with a trigger which is fast and intuitive.
The plunger is
After you're finished with your routing, you release the plunge lock trigger. The motor housing will swiftly travel back up the guide rods automatically.
$372.07
$586.00
in stock
9 new from $337.65
1 used from $319.76
as of Dec 07, 2022 5:24 am
Last updated on Dec 07, 2022 5:24 am
Power
The motor operates from 9000 to 22000 RPM. Of course, it's a variable speed engine. It's quiet, and it's powerful.
At the lowest speed, it's as loud as my hair clipper. The motor makes a lovely sound.
The router can handle all types of wood. You will rarely use a faster speed than 16000 RPM, as the motor is incredibly strong.
The most significant advantage of having a big router like this is you can run it at 22000 RPM forever, and it doesn't overheat. If you ever need this kind of power, that is.
Depth adjustment
You don't need to play with anything like having to loosen the motor housing to adjust your bit to the height you're looking for. Makita's depth adjustment system removes all the fiddling with a series of precise adjustments.
Once you set the depth stop bar and your turret, you can be sure that your bit will lower precisely into that depth. Additionally, there is a hairline-scale with a macro adjuster and finally, a micro-adjusted with which you can fine-tune your depth setting up to fractions of a millimeter.
The collet
Makita created one of the better collet systems on the market with collet capacity of a 1/2 inch and plunge capacity of 2-3/4 inches. It's not the widest collet on the market, but it's good enough for most applications.
There are six slits inside the collet that create pressure to hold in place and stabilize your bit. And it all works perfectly. The Makita RP 2301FC has immense holding power.
The collet snaps into the retaining ring on the collet nut. Then the nut and the collet are screwed into the end of the spindle shaft. The benefit of this comes when you remove the bit. As you make the nut lose, the collet is pulled from the bit.
You only need one wrench to loosen or tighten the collet nut, and it's all very swift.
Summary
If you're looking for a large plunge router that will serve you for years to come, you got it.
Makita has put real attention to the smallest detail here. Even tiny things like spring-mounted knobs make a difference with a large router like this. Almost everything is designed perfectly here.
I'm going to keep this router at my home shop as my main router for doing heavy-duty work.
Is it worth over three hundred bucks? For me, it's worth every dollar.
$372.07
$586.00
in stock
9 new from $337.65
1 used from $319.76
as of Dec 07, 2022 5:24 am
Last updated on Dec 07, 2022 5:24 am