If you're an avid angler, you've probably fished one of the famous Ozarks lakes or streams one day in the past. You might've come away disappointed because you failed to catch your limit.
That's the thing Oklahoma, Missouri, and Arkansas are trying to avoid. And if you'd like to revisit your old spot, nine times out of ten you wouldn't go away disappointed a second time.
What's happening to fishing in the Ozarks shows the tremendous interest shown in this natural, scenic, fisherman's paradise.
Make sure you've got solid equipment for your trip. Here's what I'm using:
Missouri has gone all out in the past to see to it that the state's fishing received every bit of publicity it deserved. But now, they're proving they knew what they were talking about all along.
In Oklahoma, two brand new lakes have been added in the past year and they're filled with many types of fish. In Arkansas, there are two more new lakes, both of which are reporting phenomenal catches.
Continuous stocking efforts by the three state commissions have paid off, but the planning is not for the present but for the future. In years to come, fishing experts in the Ozarks predict they will take overfishing reputations from Minnesota, Florida, and even Colorado.
Except for short pieces of the new Arkansas lakes, Missouri has had to be satisfied with what they've got. But fishing has not lessened in any of the old streams or lakes, and some of them reported bigger catches than ever, even during the usually too hot month of June and July.
Oklahoma's top trump card as far as the fisherman is concerned continues to be the Grand lake.
The large body of water, also known as the Lake of the Cherokees, was created by the largest multiple arch dam in the world and has a shoreline of more than 1300 miles. The dam itself is one and a quarter miles long, and 155 feet high.
The season over there never closes. Particularly on the Honey Creek Bay arm of the lake the takes are huge. One reason for this is that large brush piles approximately every 100 yards along the shoreline have been constructed and marked with a yellow sign.
These marking may be repellent to the fisherman who really wants to rough it, but it pays off for those who don't want to walk for miles looking for a likely spot.
This arm of the well-known Oklahoma Ozarks lake is especially noted for its giant crappie. Some catches this year have weighed more than four pounds. The lake is also well-stocked with black bass, large and smallmouth, and white bass.
Fifteen miles south of the Grand Lake on highway 92, Spavinaw lake offers some good fishing spots. A carefully planned and executed fish propagation and lake management by the Tulsa City Water Department makes game fishing good the year-round. Spavinaw furnishes water for the city of Tulsa about 80 miles away.
Hundreds of thousands of fish are released annually in the lake. Your best catches expectable there are large and smallmouth bass, crappie, bluegill, green sunfish, rock bass, and channel cat. In the early spring, black crappie always hits hard.
As far as the new lakes are concerned, Arkansas' Norfork and Bull Shoals lakes are offering fishermen in the Ozarks their greatest thrills.
Lake Norfork, an earlier companion of Lake Bull Shoals, has more than 500 miles of shoreline. Its 30,700 acres area is already claimed to be the finest fishing waters in the south and it may well be just that. Norfork's dam has made all this possible. It spans 2,624 feet long and 242 feet high.
Best fishing at Norfork this year has been for bass, and the Bennet Bayou arm is highly recommended.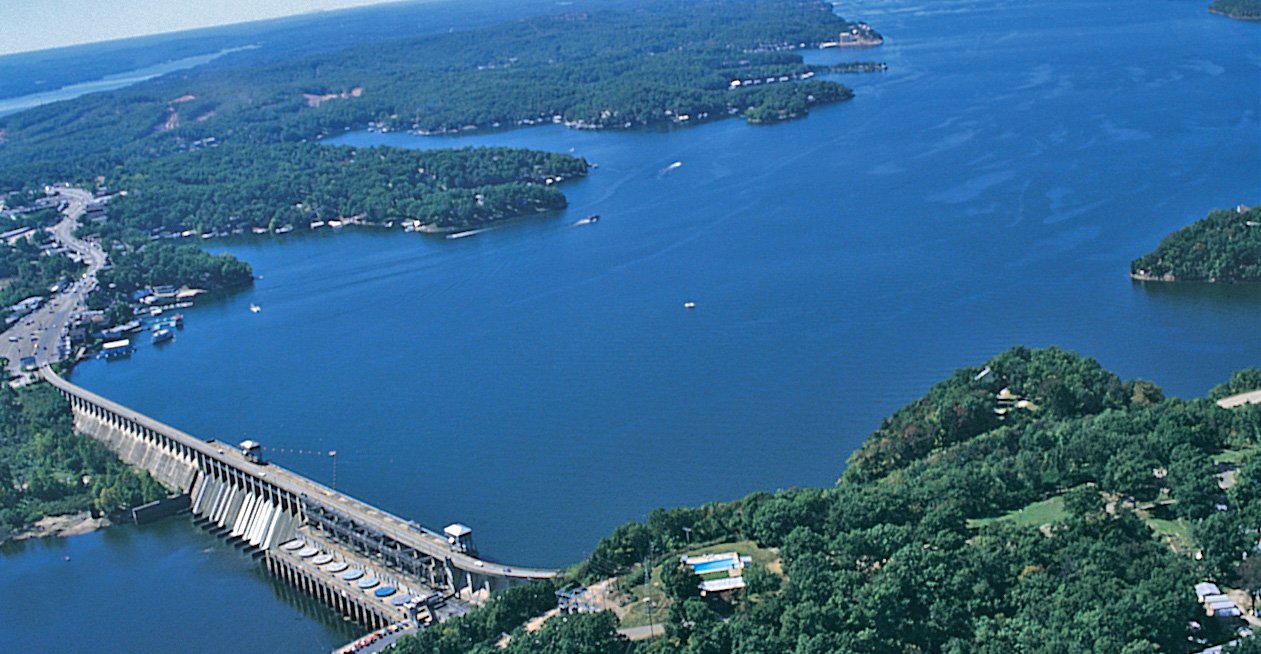 Twenty-five miles away at the new Bull Shoals Lake, formed by the construction of a government flood control and power dam, all types of fishing this year are tops.
More than a dozen thousand bass were brought into the Lakeview, Arkansas, boat landings this spring alone, and some huge brownies are being caught. So far, the record is 13 and a half pounds, but you might be able to top that the way they're biting right now.
Incidentally, state-opened tug-powered ferry boats will take you across Lake Norfork if you travel U.S. 62 and Arkansas 101. These boats operate every 15 minutes, 24 hours a day.
In Missouri, best lake fishing is at Lake Taneycomo and the Big Lake of the Ozarks.
The big lake, 60,000 acres of it, offers the best crappie fishing, and there are seldom days when you won't catch your limit. Bass fishing also rates high, and channel cat is good if you know how to fish for them.
Missouri's fishing is very diversified, ranging from the 17-pound walleye to the four-ounce bluegill and in types from the rainbow trout to the carp.
On any of the Ozarks lakes, you will find it will definitely pay to hire guides who make it a point to know where the fish are, what they're biting and when.
Here's an example of what's happening to fishing in Missouri's lakes so far this season: Lake Taneycomo has paid off at the rate of 30 pounds of game fish per acre; Wapello has produced a tremendous run of crappie (80 percent of your catch would be crappie there); and nearby Clearwater, with only 1,650 acres, has produced startling good bass results.
There is another feature of the big Lake of the Ozarks which is appealing to fishermen. It's supposed to be mosquito-free. A permanently-operated Mosquito Control Fleet keeps the lake rid of those pests, so you can fish at ease.
It is, incidentally, one of the largest impoundments in the US, with a shoreline of 1,372 miles, and 129 miles long. It is also probably the most accessible lake in the entire Ozarks region.
But he number one attraction in the Ozarks fishing, despite all the lake improvements, continues to be float trips.
Veteran guides will argue until the sun goes down on which river offers the best float fishing, but actually, there are many rivers and streams in picturesque Ozark land, and nearly all of them offer above-average fishing for float trips or bank fishing.
White River is generally conceded to be the number one Ozarks float trip drawing card. Floats can last from one day up to two weeks and any cost you want depending on how elaborate you want to get. Everything is furnished. Camping is done on gravel bars and usually, you or your guide cook your catch each evening and exchange fishing yarns. It's an especially amazing part of the Ozarks fishing trip.
Float trips are something which originated in the Ozarks at the turn of the last century. Since then, fishermen from all walks of life have made float trips a must.
One more fishing attraction is Bennett Springs and Roaring River state parks in Missouri. Trou fishermen can usually pull out their fill of fighting rainbows in the clear, cold streams in short order.
Roaring River also offers goggle-eye fishing in its 30-acres, while Bennett Springs has an abundance of bass. These parks are good stopping places on fishing trips where the family goes along, since there is plenty the little ones to do while you try your luck.
Fishing, of course, must be good to attract fishermen. But there are a lot other things such as accomodation, prices, decent food, and hospitality. The Ozarks can readily brag about all of them.
It has been little short of miraculous how prices on the entire Ozarks regional scene have remained reasonably low while most of the other tourist and fishing areas have skyrocketed.
By the way, the are is chock full of remote cabins, if you want to fish in places and not be disturbed by the all-around tourists.
There are, of course, air conditioned hotels in nearly all cities of any size at all throughout the Ozark region. It's a far cry from the day of the hillbilly, and frankly, most Ozarkians would just as soon become famous for something else, like fishing.
Ozark hospitality is, surprisingly enough, very sincere and prevalent almost anywhere. A ready smile and a cheerful swapping of fishing tales is the accepted thing to do at any of the smaller Ozark towns.
To be sure, they are not in business for their health, but they make you feel welcome and will do much more than you expect for your money.
Fishing regulations in Missouri and Arkansas have been made to order. The Game and Fish Commissions of the two states, as well as Oklahoma, are trying to attract fishermen, not drive them off with ridiculous regulations and over-priced licenses.
In Missouri, for instance you may fish any impoundment for anything at any time. If you have two weeks or more, try starting at the Lake of the Ozarks, working down to Taneycomo, and taking a float along upper White or James, on down to Bull Shoals and Norfork in Arkansas, and then over to Grand Lake in Oklahoma. This would net you a grand vacation and, what's more, a bigger string of fish than you really can handle.
As my buddy put it to me: "This is just the beginning. You think the Ozarks fishing has been good this year. Just wait for a few more and then see what's happening with fishing in the Ozarks!"